This site contains ads, adlinks and affiliate links.
Food, Wine & Nightlife –Food Tours – Culinary & Gourmet Tour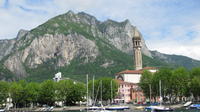 Duration: 2 hours 30 minutes
Leaving From: Lecco, Italy
Price: € 85,00
This Lecco culinary tour provides food-tasting experience that allows you to get to know Lecco and its people in an authentic manner. As you walk and eat, a guide offers an insider's view of the history, culture, and architecture of the city. When booking, you have the choice of a morning 2.5-hour tour or an evening 2.5-hour tour.
Highlights
Small group ensures personal service
Explore the local streets on a walking tour of the city
Get inside tips from a local
Informative, friendly and professional guide
Choice of morning or afternoon departure
Your walking tour takes place in Lecco's historic center, where you'll indulge in tastings at several eating spots.
As you satisfy your appetite with salty finger food, your guide shows you the nooks and crannies of the town, rich with history and tradition, hidden away from common guidebooks. Discover Alessandro Manzoni and Lecco's architect Giuseppe Bovara while sampling the finest prosciutto, mortadella, and bresaola, all accompanied by varieties of tasty focaccia.
If you are a cheese lover, you are in the right place, with an abundance of dairy delights such as Taleggio, goat cheese, and varieties from the surrounding alpine pastures. And finally, depending on availability, taste the local polpetta called Mondeghilo and some freshwater fish from Lake Como.
Lunch and dinner will be served in a typical restaurant renowned for highlighting the ancient lake and land flavors in its dishes. This is the best time to relax and get to know your travelling companions while enjoying a delicious pasta dish accompanied with a glass of local Valtellina valley red wine finishing with our famous Italian espresso.
Duration: 2 hours 30 minutes
Leaving From: Lecco, Italy
Price: € 85,00
Request a quote
Would you like more information about this tour?
Ciao!I'm Celia, your friend in Itlay! I'd be happy to share my insider tips and help you save time planning your trip to Milan & Lake Como. [Contact me]
---
LUXURY TOURS OF LAKE COMO